Check out our Ongoing Specials!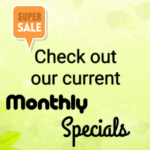 1) Refer a friend or relative and you both earn $10 off your next treatment! Make sure your friend lets me know it was you who sent them! Cannot be combined with any other special.

2) Prepay for 10 treatments and get the 11th for $15 , all treatments to be prepaid by Debit Card, Cash, E-transfer or insurance to qualify.

3) Discount rates available for children (under 12), prices vary.

4) Seniors (over 65) Discount Available Tuesday mornings from 9:00 - 12:30, save 10% on all services.
5) Join our Last Minute Club and you will be notified by email when we have a last minute opening in our schedule. If you claim the spot before someone else does, you not only get in at a time that suits you but we will reward you with 10% off your appointment for helping fill our day! Email us at: js_krause@hotmail.com, subject line: last minute club and request to be included in our Last Minute Club.
* Specials subject to change without notice. Some conditions apply. Missed appointment fees are extra.

*Update: As of July 1st our clinic will only accept the following payments: Cash, Debit, E-transfer (must be prearranged) and insurance payments, thank you for your cooperation!